What Is FirstMet?
In this FirstMet review, you will learn about the first launch by Snap Interactive. It was founded in 2007, but the name was AreYouInterested. The website used to be an exclusive dating platform which catered to people who were looking for serious relationships. The platform was rebranded in 2012 thanks to which it received a new name and outlook. FirstMet was an exclusive service, but they changed several features and functions taken from popular social media. This way the user experience became more fun and less strict. These days there are approximately 30 million members around the world. Although the majority of them are willing to find a partner for serious relationships, the website now welcomes users who are looking for casual dating and friendship. The FirstMet review will provide you with more information regarding this dating platform. You are going to learn about its advantages, disadvantages, member structure and more. This information should be helpful when deciding whether to use the dating service or not.
Advantages and Disadvantages of the Website
The FirstMet dating platform is considered to be a top service because the number of its users are more than thirty million. This kind of popularity provides people with a chance to find a local partner who is able to meet their preferences.
Is the Dating Website Legit?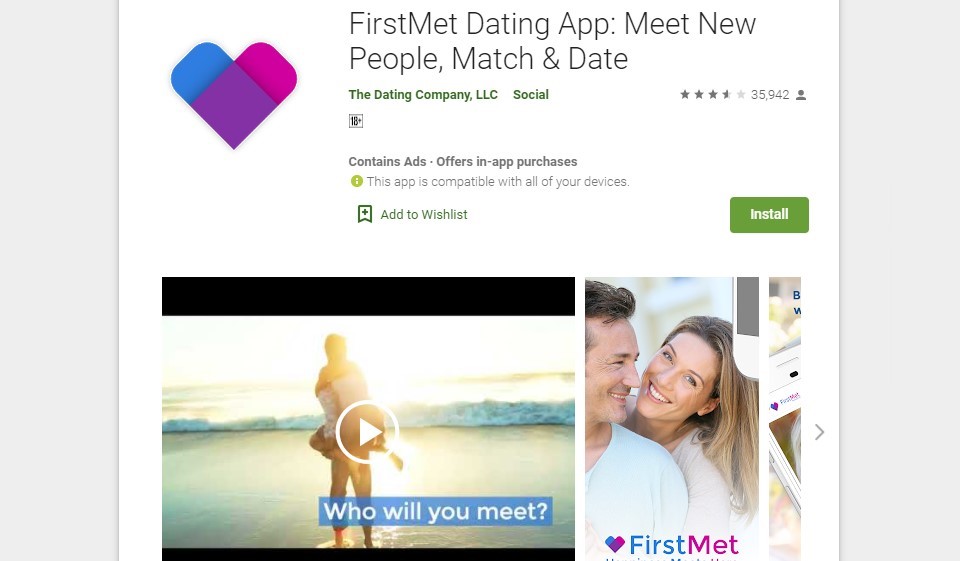 The FirstMet.com online dating service is legit. The best proof of that is a huge number of members who have already found their match on this website. There are very few profiles that are not genuine, so FirstMet.com users can be sure that they are safe.
Who You Can Meet There
As mentioned above, there are 18 million FirstMet users who come from the USA. At the same time, 500,000 of them happen to be active every week. The number of female and male users happens to be almost equal. It is to be mentioned that there is 45 per cent of women which makes the FirstMet platform more beneficial for them. They just have a bit wider choice.
The total number of members makes up more than thirty million people from all over the world. The bigger part comes from the USA, Australia, the UK, Canada and India.
What Sexual Orientation Is Welcome on the Site
The FirstMet dating service is not conservative. This implies that the website welcomes all users irrespective of their sexual orientation. Thus, straight, lesbian, gay and bisexual people are free to find a partner on FirstMet.
How Old Are the Users?
The dating platform welcomes people of ages. At the same time, the bigger part of FirstMet.com members is older. The majority of them are 35-50 years of age, and this is despite that it has been re-branded as a popular dating platform.
How Do I Sign up?

Like on many other dating websites, to start on FirstMet, users have to specify their sexual orientation, gender, name, email address, birthday and a password. It is also possible to specify what kind of relationships they are looking for. The available FirstMet.com options are "Marriage", "Seeing where things go" and "No commitment".
After that, they have to fill out their areas of interest, list favourite books, movies, music and TV shows. They should also discuss their favourite activities. Then, the FirstMet.com members can describe their appearance and say whether they have bad habits, whether they have children and their body type.
Users can also sign up with the help of their Facebook account. In this case, they will not have to spend time on uploading photos, as everything is going to be taken from the account. Even if the FirstMet.com members decide to get registered not using the mentioned option, the process is going to take just 2-3 minutes. This is because they do not have to answer too many questions. Moreover, the FirstMet.com users do not have to upload a picture while signing up. Email verification is not required, so members can start browsing the dating website immediately.
How to Create a FirstMet Profile

To create a FirstMet.com, it is necessary to visit the home page where you will see two options – using an email and using a Facebook account. Then, it is necessary to indicate your gender and the gender of the partner you are looking for. The location is to be specified as well. The next step is to insert your email, nickname, password and date of birth. To get registered, you need to be at least 18 years old. After that, you will be offered to upgrade to premium to get some benefits on the FirstMet.com dating platform. However, users are free to disagree and skip the offer. Then, they need to fill out the profile to make it easier for other members to find you faster.
Free users are allowed to view profiles of other users which are rather detailed as they contain such things as a political stance, zodiac sign, ethnicity and religion. It is also possible for the FirstMet.com members to edit their profile information later. Another great thing is that free users can even see if another user is online, offline and how long ago this user was online.
As soon as new members of the FirstMet.com dating platform manage to upload their photos in correct format, they can start using the website. They are immediately offered a selection of potential partners who are either worthy of their attention or not. The first question is "Are you interested?" that is asked as soon as a FirstMet.com profile is all set and tuned. Members are free to go for "yes" and start communication or they can ignore the offered person by selecting "skip". Users are also allowed to neglect the proposed options and use a filter where they can specify their preferences. It is possible to use such filters as age, distance and ethnicity.
In addition to that, the members of FirstMet.com can also make use of the "Icebreaker" feature which can help to start a communication. It is to be noted that free users are allowed to send and receive messages from other members including icebreakers. In addition to that, there is a FirstMet.com chatroom where people can communicate.
Is the Website Hard to Use?

Unlike some other dating platforms, FirstMet.com has both the desktop version and mobile application. This is a great advantage because many people prefer using an app as it makes communication easier. Let` look a bit closer at each of the available options.
What Is the Desktop Version like?
The design of the desktop version can seem to be a bit outdated. At the same time, this is not the most important thing when it comes to looking for your perfect partner. The difference between the desktop and mobile versions of FirstMet.com happen to be minimal. The design of the desktop version is designed to provide users with smooth navigation. One more important thing is that it is not cluttered with features which are not necessary. This means that anyone can find what they want quickly and do not have to spend a lot of time trying to figure out how the FirstMet.com desktop version operates.
Is There a Mobile Application?

The FirstMet.com mobile application is an almost identical copy of the original site as it obtains the same functionality and layout. The proof that the app is great to use happens to be the fact that there are more than one million downloads on Google Play. The application is available for both Android and iOS users which is also great. According to FirstMet review, it is very user-friendly and very convenient. One more thing to consider while utilizing the application happens to be that it makes use of people`s location services to find out what country and city they come from.
The Design of the Website
When looking at FirstMet.com people can think that it is boring and outdated. At the same time, this can be expected because the bigger part of the users is older. Although the dating platform lacks in design, FirstMet.com looks neat indeed. The features, the menus and text happen to be laid out in an organized way, so the browsing is easy. This means that even people who are not tech-savvy will find it rather simple. The Facebook extension happens to be well-designed that fits in with the idea of the dating service. This allows the FirstMet.com site and the mobile app be user-friendly and simple. The mobile application is something to be amazed. The FirstMetonline matchmaking system is extremely efficient and the profiles happen to be minimalistic. Thanks to this the screen is never cramped and the straightforward design allows members to navigate easily.
There is also the "Connections" button which displays the same lists seen on the site. The second button is for the messaging system. The third FirstMet button is used to filter the results to narrow down matches in terms of their location, age and ethnicity. Users can also use the mobile app to purchase a membership plan.
Is the Website Easy to Navigate?
As discussed before, the navigation is very smooth. Everything is organized so that the users of FirstMet.com can easily find necessary features and use them. At the same time, it is not cluttered which can be rather irritating, especially for people who have no experience in such things.

Like many other dating platforms, FirstMet.com does not provide every single feature free of charge. Free users can get registered and search for matches. There are more features that can help users to be found by other members more quickly. Premium users can also send and get messages without any limits. They are also allowed to see who viewed their FirstMet.com profile. That is why if you are willing to enjoy the website fully, you should buy a subscription plan. It has to be noted that the price happens to be very reasonable.
New members can purchase a one-month FirstMet.com subscription plan which would cost 24.99 dollars. If they opt for a three-month membership plan, they will have to pay 16.66 dollars per month. This means that the total sum should make up 49.99 dollars. There is one more FirstMet.com subscription which is received for six months. The cost is 12.50 dollars per months and 74.97 dollars for the whole period.
How Free Access Is Different From the Paid One
Being a free member of FirstMet.com, people can:
Open an account;
Create a profile;
Search for potential partners;
Use video chat with the help of Paltalk.
It is obvious that the mentioned above things are not enough to make full use of the FirstMet.com dating platform. That is why they always can buy a membership which will provide them with the following benefits:
Paid users can boost their profile;
They can read messages on the inbox, irrespective of the status;
They are allowed to send and receive messages from other FirstMet.com members;
They can see who viewed their profile.
How Do I Pay for a Subscription Plan

FirstMet.com does not limit the payment options. At the same time, it is better to make use of bank cards for this purpose. The rest of the payment options need to be discussed with the FirstMet.com Support Team. According to the terms of use of the dating service, users agree to make a payment with the help of their selected payment method. The terms of the payment are going to be based on the payment method and can be determined by agreements between members and the financial institution. In case if the FirstMet.comdating service does not receive the payment from the chosen payment method provider, users agree to pay all amounts.
What Payment Methods Are There?
In most cases, people use their credit cards and PayPal to purchase a FirstMet.com membership plan. It is also possible to opt for a profile boost for a one-time payment which should make 0.50 dollars. Thanks to this boost, the profile is going to get one day`s worth of profile activity in five minutes. New memberships will be charged an extra one-time fee of one dollar for the premium account activation.
Is It Safe?

According to FirstMet review, the safety and security of the platform are the areas of controversy for the website. In spite of a clear and strict registration process and VPN-detecting mechanisms that suspend any profiles that use VPN, there is still a number of fake accounts.
That is why the dating platform makes efforts to educate the members to be more careful. The users of FirstMet.com are taught how to determine what accounts are genuine and which are a fraud. Furthermore, the team reacts to any reports or complaints quickly. In addition to that, the dating service makes use of strong technological security measures like private networking, Firewalls, encryption, role-based access controls, authentication and backups. They are to make sure that the personal details of the members are safe.
Does It Have a Scam?
After reviewing some member comments on the FirstMet.com dating platforms, it is obvious that fake profiles are everywhere. This is rather surprising because the registration process happens to be strict. The service detects VPN usage and suspends any profile which makes use of it. The service detects location during signup via IP address and GPS. If a user types in a different address on the profile, it is taken as suspicious behaviour. Despite all that, some people manage to open fake accounts on the FirstMet.com dating site.

Unlike many other dating platforms, FirstMet.com provides very few special features. At the same time, they are available to make the online dating experience more secure and fun for everyone.
Icebreakers
This feature is a number of questions which are sent by the FirstMet.com dating website to matches who meet a user`s criteria. If they are interested, they are free to answer the questions. This should be a way to start communication.
Paltalk
The service has become a partner of Paltalk to offer video chatting to its members. If one can be sure that a FirstMet.com match looks the same in real life, it is possible to invite him or her to a video chat session.
Conclusion
When it is about FirstMet.com, it can be said that the dating service is an international service indeed. People from different countries including the UK, the USA and Canada can join. The only language users can use happens to be English, but the service is expected to add more languages in the nearest future.
Free users are allowed to access basic features, but it is better to pay for a membership plan to use more advanced features. It is possible to find the FirstMet hookup, but the bigger part of the users is looking for a serious relationship. Another good thing is that all sexual orientations are welcome on this dating website. This FirstMet review has provided with all the information you need to decide whether this service should be used. Thus, if you are looking for a worthy dating platform, FirstMet is to be taken into consideration.
Recommended websites