What Is JPeopleMeet?
JPeopleMeet is an interesting online dating website that is famous among the Jewish community in North America. JPeopleMeet has been around for about ten years and has successfully helped numerous Jewish men and women find their "bashert." This JPeopleMeet review aims to give you first-hand information on everything this website offers and help you navigate through it easily.
JPeopleMeet was founded in 2000 and is owned and operated by People Media, Inc., which also operates other online dating websites. JPeopleMeet is for those genuine people whose faith takes precedence in their lives. Finding a partner who is equally serious about Judaism as you are, is a blessing in disguise, and you have the chance to find that someone in JPeopleMeet. Keep reading our JPeopleMeet review to know how the site functions and what you can expect after being a site member.
JPeopleMeet is not for casual hookups or short-term relationship, but long-lasting bonds. If you are into casual dating, then this may not be the place for you. Though JPeopleMeet is specifically for the Jewish community, there are a growing number of people from other faiths who want to experience Jewish dating.

Is JPeopleMeet Legit Or Scam?
JPeopleMeet is a legit online dating website free from any internet scams or frauds. This website is safe and secures, aiming to provide a warm and friendly environment for Jewish people to interact and know each other.
No JPeopleMeet review will claim that the website is a scam or is not legit. It has proper checks and balances in place that guarantees the legitimacy of the website.
What Is The Audience Quality Of The Site?
JPeopleMeet is distinctly suited for the Jewish community in North America. However, it has several other members from the non-Jewish community and Jewish people from different regions who are actively joining every day.
JPeopleMeet has one of the largest Jewish community databases as compared to other dating websites. There are approximately 40,000 members from the USA itself, and the number only keeps growing. On average, there are around 13,000 new members every month.
Sexual Orientation Of The Members
JPeopleMeet focuses on creating a diverse environment so that everyone can find someone they can vibe with. There is somebody for everybody here. You can be gay, straight, bisexual, or lesbian, but you will find someone you connect with here.
Though most of the members here are straight Jewish men and women, there are many members with different sexual orientation also.
How Old Are The Members?
Overall, JPeopleMeet has more number of Jewish women than men. The minimum age for registration is 18 years old, so there are many single Jewish girls and boys between 18-24 years of age. The highest number of members here are Jewish women in the age group between 25-34 years.
You will also find many Jewish men and women in the age group of 55 and above. These members could mostly be divorced or singles, but they are serious individuals who aim to find love yet again despite their age.

How To Join The Website?
The signing up process in JPeopleMeet is super-quick and easy to follow. It comprises of a 6-step sign-up process that can be completed in less than 10 minutes. You need to fill in your gender, location, birth-date, and an active email address. You will then be asked to create a username and password. Make sure that the password is not the same as your email.
The best part is that you can sign up using your Facebook account information. You can either choose to sign-up using a Facebook account or your email address from the options given. This site is not open for members above 18 years old. Everyone can register for free on JPeopleMeet.
Create An Attractive Profile
After the sign-up process is complete, you will need to make an interesting profile page for yourself. You will be asked to upload a profile photo, which you can skip, but it is always advised to upload a clear photo of yourself to show others how you look. There will be questionnaires that you should fill to let the system's algorithm find the most potential matches for you.
You need to give information about your hobbies, interests, and even mention what you look for in a partner. You can mention personal information about yourself, such as ethnicity, any drinking or smoking habits you have, and others.
Having a detailed profile will give out the impression that you are serious about finding your bashert through JPeopleMeet. It can turn off when a person views your profile, but only see little necessary information. Your profile page should exude the type of person you are, so that you may get more attention and likes.
Communicating On The Site
In this JPeopleMeet review, we will tell you how easy it is to message your potential match. Firstly, to send or read messages sent by someone, you need to upgrade your membership to Premium status. Don't worry much, because you don't have to break a bank to do that. With nominal fees, you can message whomever you are interested in and build that bond.
The message box is on the right side of the screen, and you can send messages by simply clicking on the username. To help you level-up your game, there are also message ideas provided on the website. There are four questions located at the bottom of your profile. You can send any of these questions as an ice-breaker and start communicating directly.

Platforms Available For The Website
Desktop
When used on a desktop, the website is user-friendly and easy to navigate. The primary language of the website is in English. It has the profile photo on the left end of the screen, with options for "send message" and "send flirt" right next to it.
All fonts are large and clear, with all information neatly placed and in order. You can access this website through your desktop or even your mobile.
Mobile App
Unfortunately, this online dating website does not come in a mobile app version. However, there is a feature known as "Faces" on the website. This function acts like Tinder, where you can put a heart on the women you like or swipe move to the next.
There is no app for this site. Accessing it through your desktop is also so quick and straightforward that it negates an app's necessity.

Design And Usability
The website is designed in such a way that members of all ages can easily access it. It is uncomplicated and quick to load, unlike other dating websites. There are no graphics that can be too striking on the website. It has a user-friendly interface that allows quick access to other members' profiles.
All information about the member is well-sectioned so that you don't have to keep searching for more information about a person. The profile information available will give you enough clues on how the person is and if she/he is your potential match.
Ease Of Navigation
Navigating through the website is easy and fun. You will find what you are looking for right in front of you. Want to send a message? Sure! Simply go to the right side of the screen and click on the username and send a message. There is a "Send Flirt" button right in the middle of the screen for those looking to grab attention by flirting, which you can simply click.
You don't have to break your head over figuring out this website because you will see how easy it is to use once you are in it. The systems of payments are also super-easy and quick. Keep reading our JPeopleMeet review to know about the payment options and systems.

JPeopleMeet Costs And Prices
JPeopleMeet offers nominal subscription fees to all its members. It is an affordable and cheap dating website for the Jewish community. The registration process and creating a profile is completely free, but to start chatting with someone or to browse more profile, you need to upgrade your membership to a premium.
The site offers a total of three subscription plans divided into -1 month, three months, and six months. For a one-month subscription plan, it is only $13.99, while for three months, it is $26.97 and only $38.94 for six months.
If you are serious about your online dating game, then subscribing for six months is your best bet.
Difference Between Paid Vs Free Access
Read the full breakup of the services available for free and those available for paid members on our JPeopleMeet review.
Paid
Chat through instant messages
Send messages and reply to messages
Find out if anyone is flirting with you
See users that have liked or flirted with you
Comment on photos of interesting matches
See members who have added you on their favorite list
Improve your search and matching options
Free
Sign-up for free
Create an interesting profile
Search and browse through 10 profiles
Send flirts to interested members
Like photos of other members
Save members to your favorite list
How To Pay?
The payment process on JPeopleMeet is straightforward. Our JPeopleMeet review will you a step-by-step process on how to pay.
Click on the "inbox" icon situated on the main menu
Select "subscription" and choose the plan that you wish to buy
After this, choose the payment method you want. There are three payment methods available- debit/credit card, PayPal, and mail-in order payments.
PayPal option is not available on all websites. Once you have upgraded your membership, your membership will be automatically renewed, so you don't have to worry about purchasing a subscription all over again.
Payment System
JPeopleMeet offers a reliable and flexible payment system. You can either pay using your credit card or your debit card. You can opt for payment through PayPal or mail a personal check or money order for those who don't have either.
Your subscription plan will continue to renew itself until you cancel the subscription plan. This is a good option since there is no hassle of re-entering your payment details over and again. If mailed payments, once the money order or check is received, it will be posted to your account within the next 72 hours.
In case of any glitch during the payment process, the JPeopleMeet customer service team is always available to help you with any problem.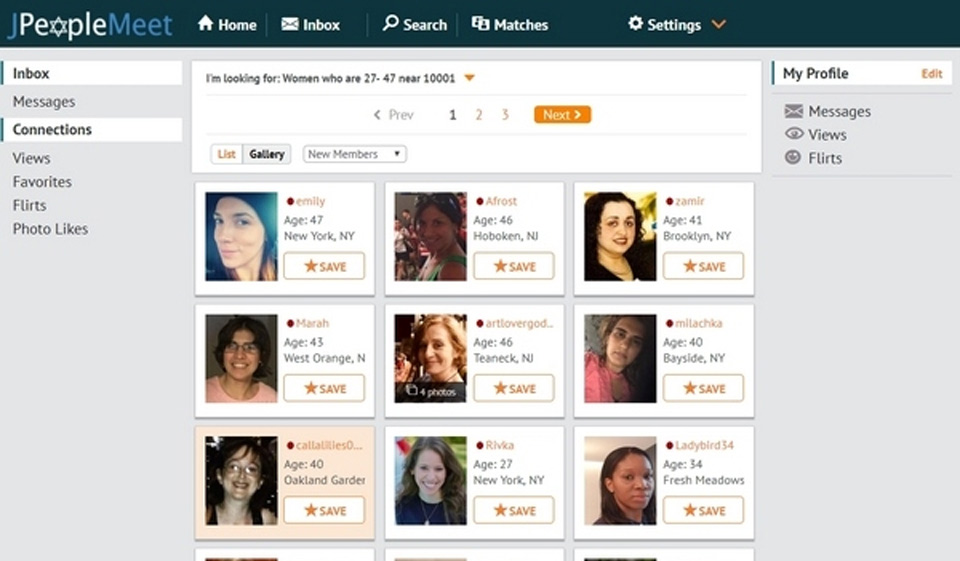 How Safe And Secure Is The Website?
According to the many JPeopleMeet reviews available online, you will find that JPeopleMeet is one of the safest online dating websites available today. JPeopleMeet is committed to prioritizing the safety and security of all its members by keeping their information private. Your details entered while doing transactions are safe and secure.
It makes sure that only those registered on the website can see your profile and information, making sure that no strangers get to enter the website and use its services. To level-up its security option, you will also find a "Report a concern" icon at the bottom of every profile, so you can quickly click on that if you see anything suspicious.
The website also has a section that provides useful dating tips for safe online dating. These guidelines give you ideas on how to chat with someone new, how to identify fake profiles, or how to keep your information safe from frauds.
Does It Have A Scam?
As of now, no scams have been reported on the JPeopleMeet website. Its excellent security system ensures that you don't become victims of any scams. The website strives to keep you safe from internet frauds, internet phishing, or any other scams.
The website provides a safe environment for you to share your information without fear of leakage freely. The JPeopleMeet team works hard to ensure that there are no fake profiles on the website.

What Are The Special Features Of The Website?
The unique features found on the JPeopleMeet website are unlike any other. They are popularly used by its users and helps you in finding your love easier and quicker. These features will help you in establishing good communication with your potential matches. Here are some of its unique features:
The echo is an exciting feature on the website. The ECHO alert is sent when two members on the site show mutual interest. When two members exchange messages or send flirts to each other, an echo alert is seen on-site.
This unique feature is loved by many of its members because it allows your profile to be on top of your potential matches' search results for a full sixty minutes. This feature enables your profile to be seen by people and get attention and likes.
The ConnectMe feature is here to make your connection stronger. Premium users can use this feature to call each other using a phone number that is provided. You need to click on the "ConnectMe" icon provided on your interested person's profile page. Once your request is accepted, you can call each other anonymously without sharing any personal information.
The anonymity of this feature allows two individuals to see if their hearts connect truly.
Message ideas are meant to help you start a conversation with another user. There are four pre-selected questions on every member's profile page that you can use to start a conversation.
The instant match features enable you to browse through the website and like random profiles by looking at their profile picture. It is an excellent way to let people know that you are interested in them.

Conclusion
JPeopleMeet online dating website is one of the most trusted and secure websites that cater to the Jewish community. The website has a vast number of Jewish people of different age groups. From 18-year-olds to 55-year-olds, you will find all kinds of people here.
The website has well-sectioned information of all profiles that you can easily access just by signing up. The signing up is completely free, but if you wish to message another member, you need to upgrade your membership. However, the good news is that the membership fees are affordable as compared to other dating websites.
JPeopleMeet is a dating website that has Jewish people who are looking for genuine love. The chance of scams or fake profiles on the website is zero. The website ensures that all your personal information is safe and secure with them.
It's interesting special features can be used by members to increase their chances of finding their potential Jewish soulmate. The website is filled with people who are serious about relationships and marriage and not for casual hookups. This is a great website to join if you are Jewish, and is looking for a partner who equally shares the love for Kosher food.